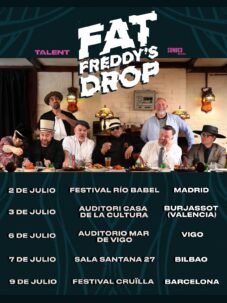 Working with other programmers to expand possibilities and offer the best tours to the artists with whom we are lucky enough to collaborate leads us to be able to present tours like this one.
Fat Freddy's Drop is the most popular band to ever come out of New Zealand and one of the biggest performing live.
Like a magic formula with a secret recipe, his music contains indeterminate doses of ingredients as healthy as reggae, soul, funk, dub, jazz, rock and disco. An ideal amount of 100% effective, enjoyable and stimulating result that must be experienced in concert.
We are lucky to accompany this group for their first tour in Spain.
Get up, and feel it!